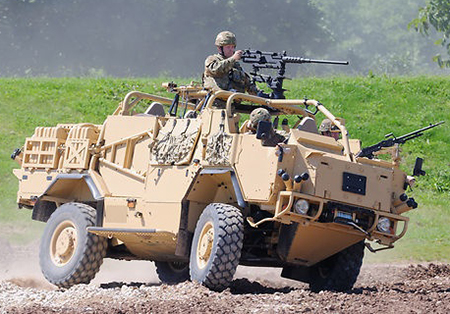 An Armoured Boot to Maximise Protection for CV Joints Essential to the Drive System of Off-Road and Military Vehicles.

Enhanced Protection from Rough Terrain, Balistics, Shrapnel, Debris.
Mechanical joints, particularly Constant Velocity Joints (CV's) are widely used in the Auto industry, including for military vehicles, as an essential part of the drive shaft to each driven wheel.
These joints require a protection seal to retain lubricant and prevent damage from trauma or ingress of foreign materials.

Soft Boots made from Rubber or similar materials, are the widely used industry standard.
These soft boots are easily damaged by mechanical, chemical and thermal trauma and high speed angular flex, resulting in early CV joint failure.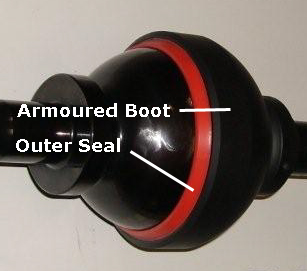 The successful development of a boot system, made from rigid, non-elastic, stronger, more durable material, is the "Holy Grail" of the auto industry. It has obvious and significant advantages for Military Vehicles. Being balistic, schrapnel and heat proof the armoured boot offers a much higher level of CV joint protection and reliability.

The Armoured Boot® can be made from Steel, Carbon Fibre, Alloy (or similar material) and is sealed in its relationship with the Constant Velocity (CV) joint by specially designed annular seals.

The Armoured Boot® provides major advantages of being balistic and debris proof and so adds 1000s of KM more reliability, important in not only civilian vehicles but especially military vehicles where it will save lives having the vehicle make it home to base .

The Armoured Boot® is an entirely new product, invented, designed, built and tested in Australia by Australians.
The Research and Development programme has been ongoing since early 2005.

The Armoured Boot® has been tested in some of the toughest conditions imaginable on some of the latest military vehicles in multiple countries.
The Armoured Boot® has been proven to well outperform the original equipement manufacturers CV boots on multiple military applications.
The improvement was so large that we now have multiple military vehicle manufacturers looking to incorporate the Armoured boot into their new designs.

Static testing required the design, installation and use of a custom test bed, to evaluate the products under variable speed, load, flex angle and physical and chemical impact.

The Armoured Boot® mounted in a full Constant Velocity Joint and Axle Assembly, as supplied by CalOffroad to Prime Military Manufacturers for field testing and evaluation on some of the latest Military Vehicles in multiple countries.
The Armoured Boot® has been manufactured in Australia for use with CV Joints and Axles manufactured by some of the world leading suppliers.

The principal inventor is Cal Goodman (Cal) whose business interests include CalOffroad
Cal is a leader in the marketing and sales of after-market products for 4x4 off-road vehicles.

CalOffroad is well known for its introduction and supply of "The Worlds toughest CV's and Axles".

Current IP Protection Status:
Armoured Boot® is a Registered Trade Mark.
The Design of the Armoured boot is a Registered Design
The Armoured Boot® is subject to a provisional Patent.